Register via ITSS Conference Management System.

If you have problems with registration or paper submission, please refer to the FAQ.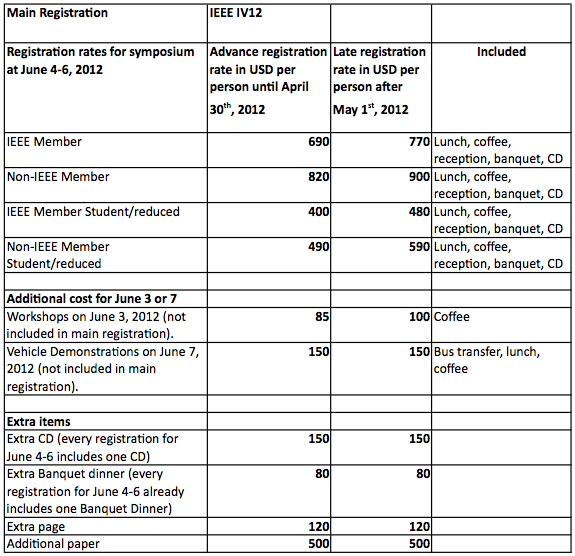 All Prices in USD include VAT.

Student registration
Please provide an appropriate student proof (ID, letter of confirmation) to the registration chair This e-mail address is being protected from spambots. You need JavaScript enabled to view it . Please make sure you bring the student proof in original to the IV. We reserve the right to check the student proof on-site in Alcalá de Henares.
Paper upload policy
Each full registration will allow the author to upload one (1) paper. Student (reduced) registration does not allow paper uploads.
Authors with multiple papers must pay at least one full registration. Each further paper can be uploaded for a reduced fee of 500 USD. That fee for extra uploads will come with one additional complimentary registration for another student author on the paper.

Overlength page charges
6 pages are included. Every additional page costs 120 USD.
Refund policy
Any cancellation is associated with significant costs for us and might conflict with the paper submission policy.
For these reasons, following fees and rules will apply for any cancellation of the registration, workshop, demo or any other items, purchased for the IEEE Intelligent Vehicles Symposium (IV'12) in Alcalá de Henares:
For any cancellation, a handling fee of 10% of the cancelled service will be charged.
Since we are bounded to commitments with our contractor, an additional compensation fee will apply for late cancellations, unless the attendee provides an adequate substitution (e.g. providing an additional, full paying attendee when cancelling a registration):
Cancellation after May 25th, 2012 but before June 1st, 2012: compensation fee of 15% will be charged.
Cancellation after June 1st, 2012: compensation fee of 90% will be charged.
Authors with an associated paper cannot be refunded, unless a co-author will register, instead. Subject to this condition, any granted refund is associated with the handling fees, listed in 1).
For any cancellations, please contact This e-mail address is being protected from spambots. You need JavaScript enabled to view it .
Visa
For Visa Invitation Letters, please send an email with subject "Visa Letter Request", your name and address, and the paper id (if you are author of an accepted paper) to This e-mail address is being protected from spambots. You need JavaScript enabled to view it .